Thailand is popularly called as Land of smiles among the people of Thailand. There are many places to visit in Thailand as it is very well known for it. This article will be driving through top best places in Thailand. Well if you're a nature lover and passionate about trekking, Thailand is the best place to go. Let us discuss about Top 4 Tourist Places in Thailand:
Railay beach is located in Krabi. It is supposed to one of the best beaches in Thailand. You can literally sight an Island on the other side. If you wish to go on other side of the beach, you can take a boat.  There are many water activities like snorkelling, kayaking, and whitewater rafting. You can even visit a Thai Spa as it is one of the stress busters. Elephant Trekking is a must watch as you can see Majestic Elephants moving around you.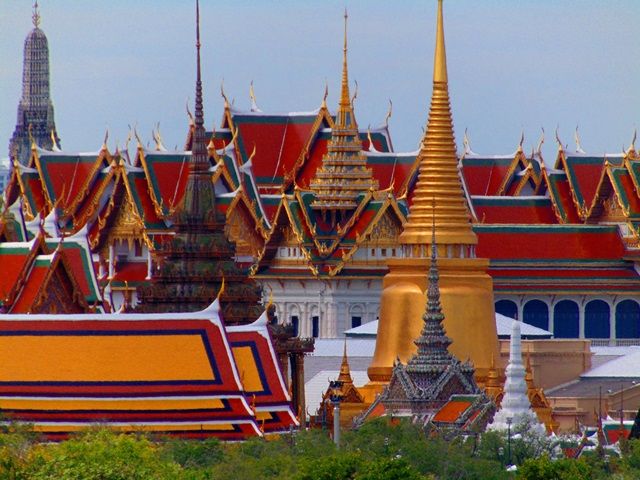 Post enjoying the elephant trekking and the water activities, you have to make some time to visit Bangkok. Bangkok is one of the amazing places that you have to visit during your life time. Again to be precise, there are many places in Bangkok too. You should at least dedicate 1 day for Bangkok so that you get to see places. One such place I would as must visit is, Grand Palace. Grand Palace is supposed to be a vintage architecture, which consists of temples, royal halls, and ancient relics. Wat Phra kaeo, one of the ancient Buddha temples is a treat to watch.
This is the best place for a foodie. You will find all kinds of dishes being prepared by different vendors in this street. Don't you dare to miss thai food if you're a non-vegetarian. Fried bananas, crab cakes, samosas, and chicken satay are must try. If you're a shopaholic, you can buy paintings, musical instruments, essential oils and natural soaps. Ensure you don't visit this place on weekends as it will be too crowded.
This is supposed to be the biggest national park in Thailand. You can go on a safari drive wherein you can find exotic variants of birds and animal moving around you. You can even go on a trekking amidst the jungle and mesmerize the nature. A passionate photographer tends to spend more time in this park as he can capture the best moments of animals and birds.
Hope the article has covered top 4 places in Thailand. Stay connected to us for more such sections. Thanks for reading!